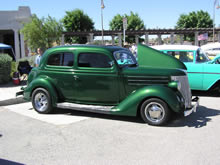 The Route 66 Museum's 5th Anniversary Classic Car Show Celebration brought 63 registered vehicles. Ten unique Route 66 shield shaped plaques made by Eddie Cordova were awarded for the top, plus five distinctive awards. The furthest owner drove his 1933 Chevrolet 2-door Sedan (Resto Street Rod) from Escondido, CA. The owner proudly exclaimed his vehicle has been in the family since new.
Super DJ Kev-Dog (Kevin Williams) provided a wonderful music mix making special announcements on occasion. Stacy Vellas of Brawley sang listeners a tune called "Barstow Station" dear to her heart.
Albert Okura & his Juan Pollo caravan of wacky parade vehicles rode in over the First Street Bridge literally stopping the show. The crowd below watched larger than life cartoon characters Bugs Bunny, Taz and Daffy Duck riding in classics, also a crazy car boat, and an off-road truck with a mini off-road truck in the bed drive into the area. About a dozen staff members (some on roller skates) served the crowd a delicious meal of rotisserie chicken with the works.
We enjoyed perfect weather with a high of 85. Harvey Girl tour guide Helen Baker of Encino gave four tours of the historic building to more than 175 people. Over $1500 dollars in prizes were claimed. Miss Route 66 Queens and numerous volunteers contributed their time, muscles and voices creating a fun celebration for all!
Next year promises to be another wonderful celebration of the museum's continued contribution. The date is scheduled for June 17, 2006, the day before Father's Day. We will have goody bags for the first 75 registrants and a gift for every dad!